Infinidat Multilingual Website
Image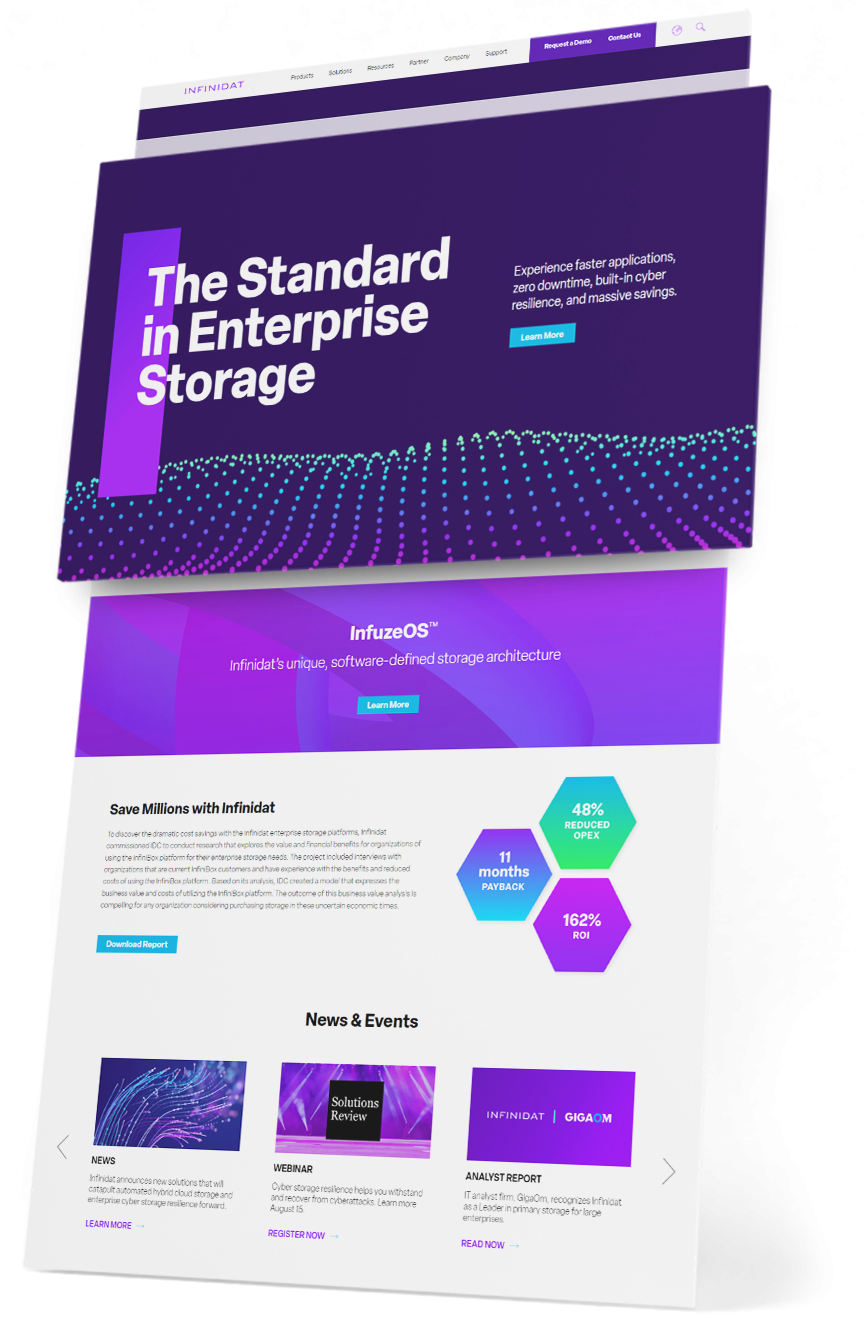 The Client
Infinidat is a prominent global enterprise data storage solutions provider that has revolutionized the industry with its innovative technologies. With over a decade of experience in developing and delivering cutting-edge data storage solutions, Infinidat has emerged as a global player in the industry, with a presence in over 50 countries worldwide.
The Project
Infinidat's Main website
Comrax's partnership with Infinidat has played a pivotal role in the successful design and development of their website, catering to a diverse range of users worldwide. This collaboration leveraged Infinidat's unique data storage solutions and Comrax's expertise in web design to create a highly functional and visually appealing website. The primary objective was to provide a seamless user experience while effectively showcasing Infinidat's innovative technologies and positioning them as a leader in the data storage solutions market. 
The Industry: Information technology (IT) industry, Data storage solutions market
The Year: 2021
Duration: 5 Months
Technologies
Html5
css
Javascript
Drupal
PHP
REST API
Functionality
Comprehensive Product Information
The website provides detailed information about Infinidat's products, including their features, specifications, and benefits. Users can explore different storage solutions and understand their capabilities.
Solutions and Use Cases
Infinidat's website showcases real-world use cases and success stories, demonstrating how their solutions have addressed specific challenges and delivered value to customers. This functionality helps potential clients understand the practical applications of Infinidat's offerings.
Resources and Collateral
The website offers a range of resources, such as whitepapers, e-books, datasheets, and videos. These materials provide in-depth insights into industry trends, best practices, and technical details related to Infinidat's products and technologies.
Partner and Customer Portal
Infinidat provides a dedicated section for partners and customers, offering access to exclusive content, support resources, documentation, and collaboration tools. This functionality facilitates streamlined communication and collaboration between Infinidat and its partners/customers.
Events and Webinars
The website features an events calendar highlighting industry conferences, trade shows, webinars, and other relevant events hosted by Infinidat. Users can stay updated on upcoming events and register to attend virtual or in-person sessions.
Contact and Support Channels
Infinidat's website includes multiple contact options, such as phone numbers, email addresses, and a contact form, allowing users to get in touch with the company's representatives for inquiries, support, or sales-related queries.
Blog and Thought Leadership
Infinidat maintains a blog section where they share insights, thought leadership articles, industry trends, and expert opinions. This functionality provides valuable content to educate and engage the audience while establishing Infinidat as a knowledge leader in the data storage domain.
Language and Region Selection
The website offers language options and allows users to choose their preferred region, ensuring that content and relevant information are presented in a localized manner.